40 Winter Sentences in English with Urdu Translation for English speaking. English Sentences for Winter Season with Urdu Translation for English Speaking Practice. This video helps learn English sentences that are used to talk about winter and cold. English to Urdu sentences for Winter to speak English fluently.
Watch the video lesson Here

40 Winter Sentences in English
Aaj bohat sardee hy.
It's very cold today.
Main dhoop seen raha hu.
I'm basking.
Mira bistar garam kar dain.
Make my bed warm.
سردی دن بدن زیادہ ہو رہی ہے۔
Sardee din ba din zida hu rahi hay.
The cold is getting worse day by day.
Kahin sardee na lag jaye
You might get cold.
Bohat dhund hay bahir.
It's too foggy outside
Mujhay thandd lag rhi hy.
I am feeling cold.
Munh sy dhuwan nikal rha hy.
I can see my breathe in the air.
Sardee shuru ho chuki hy.
Winter has set in.
Dastany pehan lo.
Wear your gloves.
Baher bohat sardee hy.
It's very cold outside.
باہر نکلنے سے پہلے خود کو اچھے سے ڈھانپ لو۔
Baher nikalny sy pehly khud ko achy sy dhanp lo.
Cover yourself before you go out.
اپنی جیکٹ کا زِپ بند کرلو۔
Apni jacket ka zip band krlo.
Zip up your jacket.
ہاتھ برف جیسے ٹھنڈے ہورہے ہیں۔
Haath barf jesy thandy ho rhy hen.
My hands are turning icy cold.
Heater meray qarib rakh dain.
Keep the heater close to me.
کیا آپ کو ٹھنڈ لگ رہی ہے؟
Kia aapko thand lg rhi hy?
Are you feeling cold?
Mujhy sweater chahiye.
I need a sweater.
Mosam kesa hy?
How's the weather?
Uski naak beh rahi hy.
He has a runny nose.
دھند کیوجہ سے کچھ نہیں دکھ رہا۔
Dhund ki wajhan say kuch nhi dikh raha.
Nothing is visible due to fog.
Main kaanp raha hun.
I am shivering.
میری انگلیاں سُن ہو رہی ہیں۔
Meri unglyan sun ho rhi hen.
My fingers are going numb.
Sweater pehan lo.
Put on your sweater.
Meri aeryan phat rahi hen.
My heels are cracking.
تمہارے ہونٹ خشک ہو رہے ہیں۔
Tumhary hont khushk ho rhy hen.
Your lips are chapped.
Lip balm lgao.
Apply lip balm.
اپنی جِلد کو تھوڑا تر کرو۔
Apni jild ko thora tarr kro.
Moisturize your skin.
مجھے اکثر سردی ہوجاتی ہے۔
Mujhy aksar sardee ho jati hy.
I catch a cold very often.
سردی ہونے سے مجھے بہت چھینک آتی ہے۔
Sardee honay sy mujhy bohat cheenk aati hy.
I sneeze a lot when I catch a cold.
Mera gala khrab hy.
I have a sore throat.
مجھے بہت زیادہ کھانسی ہے۔
Mujhay bohat zyada khansee hy.
I have a bad cough.
Jaldi say razai oodh lain.
Get into the quilt quickly.
سردی کی وجہ سے مجھے بخار ہے۔
Sardee ki wajhan say mujhy bukhar hay.
I have a fever due to a cold.
Bachay ko garam rkhen.
Keep the kid warm.
Razai do mujhy.
Give me the quilt.
چلو آگ کے پاس بیٹھتے ہیں۔
Chalo aag k pass bethTy hen.
Let's sit by the fireplace.
Aag jala dain
Light a fire
Aag bhujaa dain.
Extinguish the fire.
Aa taiz kar dain.
Speed ​​up the fire
Kanposh zrur pehno.
You must wear earmuffs.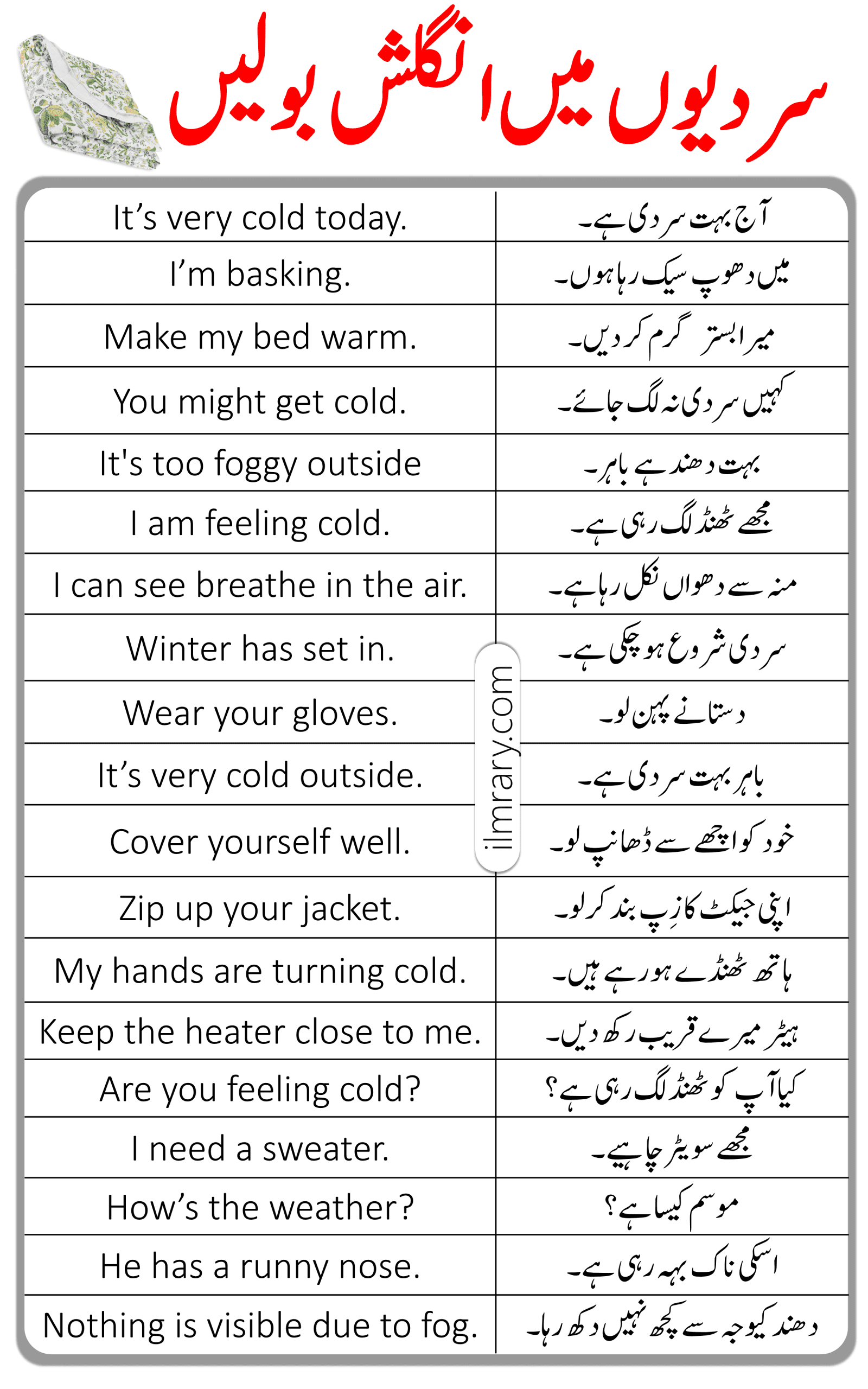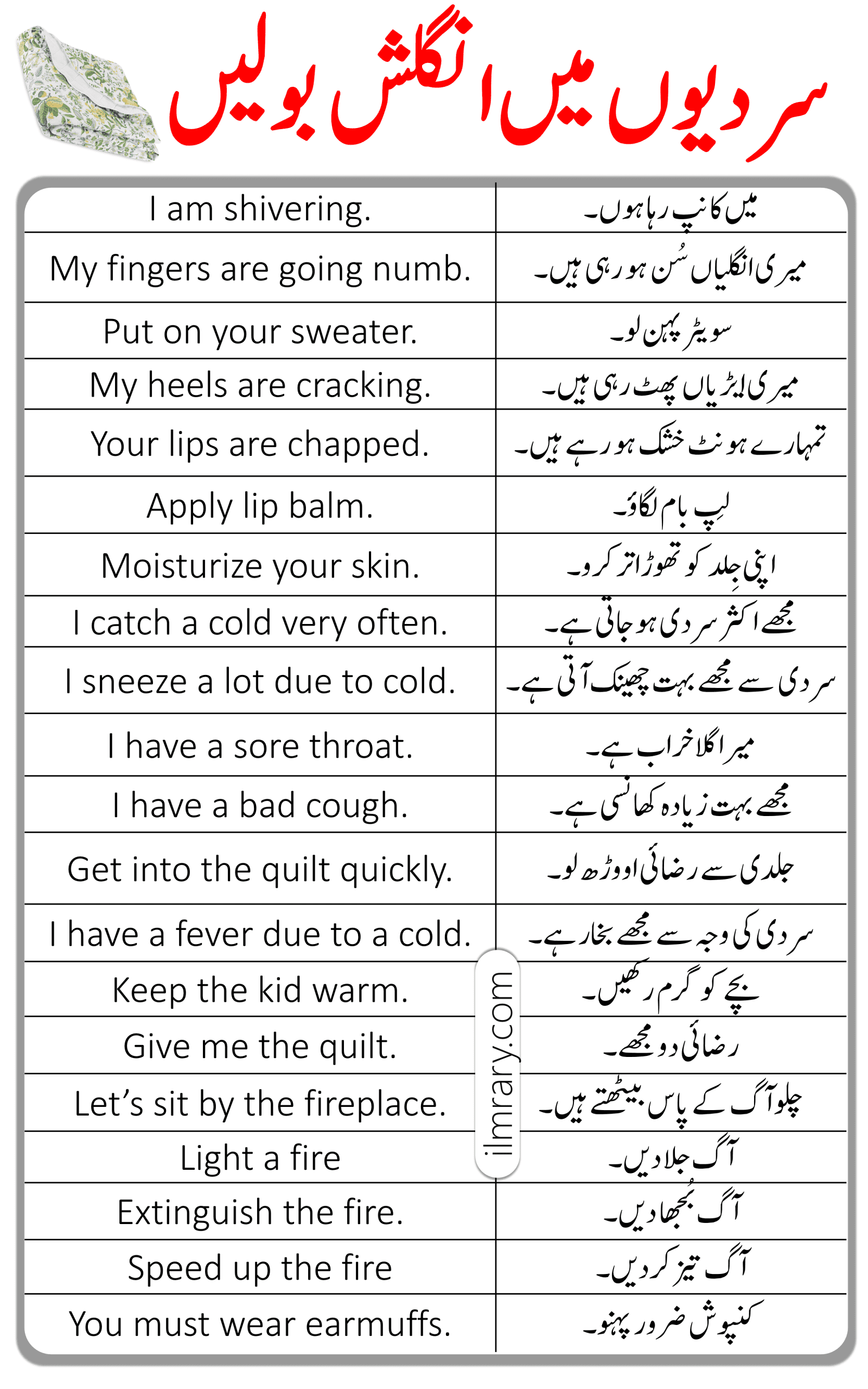 Download PDF 
Click Here