Learn 300 + Common Verbs List with Urdu Meanings English language can be quite easy by learning some important English grammar or vocabulary concepts. learning enough vocabulary makes the job easy for students to speak English more fluently. there are many different actions that we perform every day. why to learning English verbs for those actions so that spoken English can make it easier. this lesson will help you learn the most common 300+English verbs list which will surely help you learn English fast.
These are the basic English verbs list that is generally used by English learners in daily life. they will be quite helpful to speak English effectively. by learning these English verbs your English speaking will become better and you will be able to speak good English s these verbs are generally used in English conversations. on daily basis, there are plenty of actions are done by people knowing their English will be helpful for describing those actions appropriately.
Learn these English verbs list if you really desire to learn English in an effective way because these are the most basic English verbs used in English conversations and you can start learning English by memorizing these basic English verbs.
Watch The Video Lesson Here
<
300

+ Common Verbs List 
| | |
| --- | --- |
| Hold | پکڑنا |
| Hug | گلے سے لگانا |
| Hide | چھپانا |
| Hear | سُننا |
| Get | لینا |
| Give | دینا |
| Shake | ہِلانا |
| Act | عمل کرنا |
| Answer | جواب دینا |
| Approve | مان لینا |
| Arrange | ترتیب دینا |
| Break | توڑنا |
| Build | تعمیر کرنا |
| Laugh | ہنسنا |
| Cough | کھانسی کرنا |
| Complete | مکمّل کرنا |
| Cry | رونا، چِلانا |
| Describe | بیان کرنا |
| Draw | کھینچنا |
| Glow | چمکنا |
| Google | آنکھیں اِدھر اُدھر گُھمانا |
| Intimate | اِطلاع دینا |
| Glare | چمکنا دمکنا |
| Harden | سخت کرنا |
| Guard | حفاظت کرنا |
| Guide | رہنمائی کرنا |
| Habituate | عادی ہونا |
| Grudge | حسد کرنا |
| Hurt | تکلیف دینا |
| Abuse | گالی دینا |
| Admire | تعریف کرنا |
| Accept | قبول کرنا |
| Admit | تسلیم کرنا، ماننا |
| Adopt | اِختیار کرنا |
| Advise | نصیحت دینا |
| Agree | ماننا |
| Swell | سُوجنا |
| Sew | سلائی کرنا، سِینا |
| Write | لِکھنا |
| Graze | گھاس چرنا |
| Read | پڑھنا |
| Load | وزن لادنا |
| Melt | پِگھلنا |
| Show | دِکھانا |
| Shear | تراشنا |
| Sow | بونا |
| Rot | خراب ہونا |
| Interrupt | دخل دینا |
| Interpret | تشریح کرنا |
| Intermix | آپس میں ملانا |
| Intend | اِرادہ رکھنا |
| Insure | بیمہ کرنا |
| Insult | بےعزتی کرنا، ذلیل کرنا |
| Inspect | معائنہ کرنا |
| Inquire | پوچھ گچھ کرنا |
| Inherit | وراثت میں کچھ ملنا |
| Inflame | روشن کرنا |
| Involve | شامل ہونا |
| Continue | جاری رکھنا |
| Shine | چمکنا |
| Invest | روپیہ لگانا |
| Invite | دعوت دینا |
| Darken | اندھیرا کرنا |
| Dare | ہِمّت کرنا |
| Beg | بھیک مانگنا |
| Begin | شُروع کرنا |
| Behave | سلوک کرنا، پیش آنا |
| Busy | مصروف ہونا |
| Knit | بُننا |
| Knock | دستک دینا |
| Listen | سُننا |
| Lock | تالا لگانا |
| Measure | ناپنا، تولنا |
| Migrate | ایک جگہ سے دوسری جگہ جانا |
| Level | ہموار کرنا |
| Loosen | ڈِھیلا کرنا |
| Hang | لٹکانا |
| Harm | نقصان دینا |
| Harvest | فصل کاٹنا |
| Hate | نفرت کرنا |
| Heal | زخم بھرنا |
| Win | جیتنا |
| Tear | پھاڑنا |
| Think | سوچنا |
| Burn | جلنا، جلانا |
| Darn | رفو کرنا |
| Throw | پھینکنا |
| Wake | جاگنا |
| Sleep | سونا |
| Wear | پہننا |
| Weep | رونا |
| Exhaust | مکمل خالی کر دینا |
| Behold | مدِنظر رکھنا |
| Benefit | فائدہ پہنچانا |
| Sacrifice | قُربان ہونا، قُربان کرنا |
| Recover | صحت یاب ہونا |
| Daunt | ڈرانا |
| Depose | تخت سے اتارنا |
| Cure | صحت یاب ہونا |
| Come | آنا |
| Return | لوٹنا، واپس آنا |
| Trouble | مُشکِل میں ڈالنا |
| Fade | دھیما پڑنا |
| Gather | اِکٹھا کرنا |
| Embarrass | شرمندہ ہونا |
| Claim | دعویٰ کرنا |
| Chase | پیچھا کرنا |
| Cause | وجہ بننا، سبب ہونا |
| Transport | ایک جگہ سے دوسری جگہ لے جانا |
| Jangle | بکواس کرنا اُلٹا سیدھا بولنا |
| Justify | صحیح ثابت کرنا |
| Imbank | بند باندھنا |
| Take | لینا |
| Clean | صاف کرنا |
| Tell | بتانا |
| Move | حرکت کرنا |
| Feel | محسوس کرنا |
| Fix | پکّا کرنا |
| Feed | نشونما کرنا |
| Follow | |
| Forget | بھولنا |
| Freeze | جمنا |
| Drink | پینا |
| Clap | تالی بجانا |
| Climb | اوپر چڑھنا |
| Consist | مشتمل ہونا |
| Dye | رنگنا، رنگ کرنا |
| Die | مرنا |
| Drill | سوراخ کرنا |
| Hire | کرائے پر لینا |
| Spend | خرچ کرنا |
| Send | بھیجنا |
| Chew | چبانا |
| Cover | ڈھانپنا |
| Drive | چلانا |
| Remember | یاد رکھنا |
| Buy | خریدنا |
| Wait | انتظار کرنا |
| Eat | کھانا |
| Hesitate | ہِچکِچانا |
| Create | پیدا کرنا ، کچھ نیا بنانا |
| Increase | بڑھنا، زیادہ ہونا |
| Decrease | گھٹنا، کم ہونا |
| Smell | سُونگھنا |
| Open | کھولنا |
| Close | بند کرنا |
| Frighten | خوفزدہ ہونا |
| Translate | ترجمہ کرنا |
| Experience | تجُربہ کرنا |
| Believe | یقین کرنا |
| Borrow | اُدھار لینا |
| Bury | دفن کرنا |
| Call | بُلانا |
| Ask | پُوچھنا |
| Connect | جوڑنا، آپس میں مِلانا |
| Copy | نقل کرنا |
| Deceive | دھوکا دینا |
| Defeat | شِکست دینا، ہرانا |
| Destroy | تباہ کرنا |
| Disappoint | مایوس ہونا |
| Earn | کمانا |
| Fold | تہہ لگانا،موڑنا |
| Gain | حاصِل کرنا |
| Greet | گلے ملنا، سلام دعا کرنا |
| Aid | مدد دینا |
| Alarm | اطلاع دینا |
| Warn | خبردار کرنا |
| Lend | قرض دینا |
| Scream | چیخنا چلانا |
| Drown | ڈُوبنا |
| Employ | مُلازمت دینا، مُلازم رکھنا |
| Enable | قابل بنانا |
| Unite | مُتحد ہونا |
| Wander | اِدھر اُدھر گھومنا |
| Vomit | قے کرنا |
| Roar | چنگھاڑنا ( شیر کا) |
| Excite | خوش ہونا |
| Excuse | معاف کرنا، معافی مانگنا |
| Nourish | پروان چڑھنا |
| Ride | سواری کرنا |
| Shrink | سُکڑنا |
| Murder | قتل کرنا |
| Help | مدد کرنا |
| Chop | ٹُکڑوں میں کاٹنا |
| Contribute | چندہ دینا، حِصّہ ملانا |
| Choose | پسند کرنا، منتخب کرنا |
| Chirp | چہچہانا ( پرندوں کا) |
| Choke | بند کرنا گلہ دُبانا |
| Contrast | معاہدہ کرنا |
| Beat | مارنا |
| Bind | باندھنا |
| Bite | کاٹنا |
| Interrogate | تفتیش کرنا |
| Quarrel | جھگڑا کرنا |
| Bend | جُھکنا |
| Bleed | خون بہنا |
| Blow | ہوا کا چلنا |
| Break | توڑنا |
| Accurate | صحیح کرنا |
| Add | جمع کرنا، اِضافہ کرنا |
| Address | مُخاطب ہونا |
| Adorn | سجانا |
| Advance | ترقّی کرنا |
| Affect | اثر ڈالنا |
| Affirm | صحیح ماننا |
| Allocate | مُقرر کرنا |
| Allow | اِجازت دینا |
| Keep | رکھنا |
| Alter | بدلنا |
| Demand | مطالبہ کرنا |
| Delay | تاخیر کرنا، دیر کرنا |
| Finish | ختم کرنا |
| Decorate | سجاوٹ کرنا |
| Degrade | حقیر کرنا |
| Forgive | معاف کرنا |
| Talk | بات کرنا |
| Try | کوشش کرنا |
| Transfer | منتقل ہونا |
| Test | آزمانا |
| Torture | اذیت، تکلیف دینا |
| Tremble | کانپنا |
| Bear | برداشت کرنا |
| Intoxicate | ہوش میں نہ رینا |
| Illuminate | روشن کرنا |
| Imagine | تصور کرنا |
| Note | نوٹ کرنا |
| Jump | اُچھلنا |
| Join | شامل ہونا |
| Judge | فیصلہ کرنا |
| Nullify | منسوخ کرنا |
| Fly | اُڑنا |
| Swim | تیرنا |
| Color | رنگ کرنا |
| Thrive | پھلنا پھولنا |
| Grasp | پکڑنا |
| Go | جانا |
| Grave | کھودنا |
| Indulge | راضی کرنا |
| Expand | پھیلنا، پھیلانا |
| Expect | اُمّید رکھنا، توقع کرنا |
| Speak | بولنا |
| Import | منگوانا |
| Facilitate | سہولت یاب کرنا |
| Fail | ناکام ہونا |
| Faint | بےہوش ہونا |
| Face | سامنا کرنا مقابلہ کرنا |
| Fire | آگ لگانا، گولی چلانا |
| Guess | اندازہ لگانا |
| Educate | تعلیم دینا |
| Realize | احساس ہونا |
| Fill | بھرنا |
| Fight | لڑائی کرنا |
| Resign | استعفیٰ دینا |
| Prepare | تیار ہونا |
| Catch | پکڑنا |
| Care | فکر کرنا، خیال رکھنا |
| Carry | اُٹھانا |
| Flatter | خوشامد کرنا |
| Consider | سمجھنا |
| Calculate | حِساب کِتاب کرنا |
| Enjoy | لطف اندوز ہونا |
| Change | بدلنا، تبدیل کرنا |
| Digest | ہضم کرنا |
| Disturb | پریشان کرنا |
| Discover | دریافت کرنا |
| Direct | ہِدایت دینا |
| Do | کرنا |
| Dig | گڑھا کھودنا |
| Pray | دعا کرنا |
| Prey | شِکار کرنا |
| Sweep | جھاڑو دینا |
| Leave | چھوڑنا |
| Lie | جُھوٹ بولنا |
| Plan | منصُوبہ بنانا |
| Play | کھیلنا |
| Shout | کِسی پر چِلّّانا |
| Sneeze | چھینک مارنا |
| Solve | حل کرنا |
| Sing | گانا |
| Run | بھاگنا |
| Replace | تبدیل کرنا |
| Paint | رنگ بھرنا |
| Request | درخواست کرنا |
| Whistle | سیٹی بجانا |
| Cook | کھانا پکانا |
| Wash | دھونا |
| Contest | مقابلہ کرنا |
| Swear | قسم کھانا |
| Slide | پِھسلنا |
| Stand | کھڑا ہونا |
| Steal | چوری کرنا، چُرانا |
| Sting | ڈنک مارنا ، چبھونا |
| Stick | چِپکنا، کِسی چیز سے چِپکے رہنا |
| Spin | گُھمانا |
| Publish | شائع کرنا |
| Recognize | شناخت، پہچان کرنا |
| Reduce | کم کرنا |
| Refuse | منع کرنا، انکار کرنا |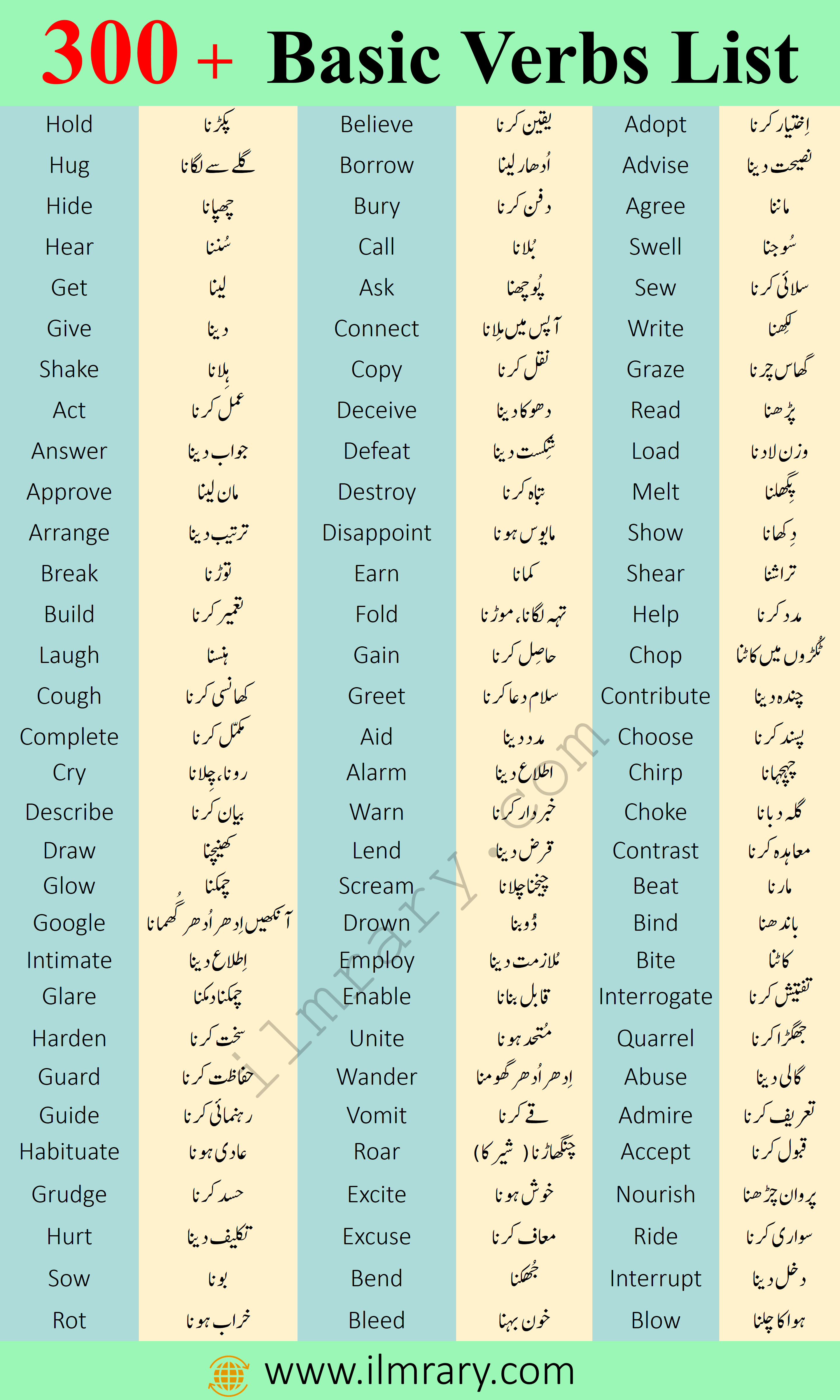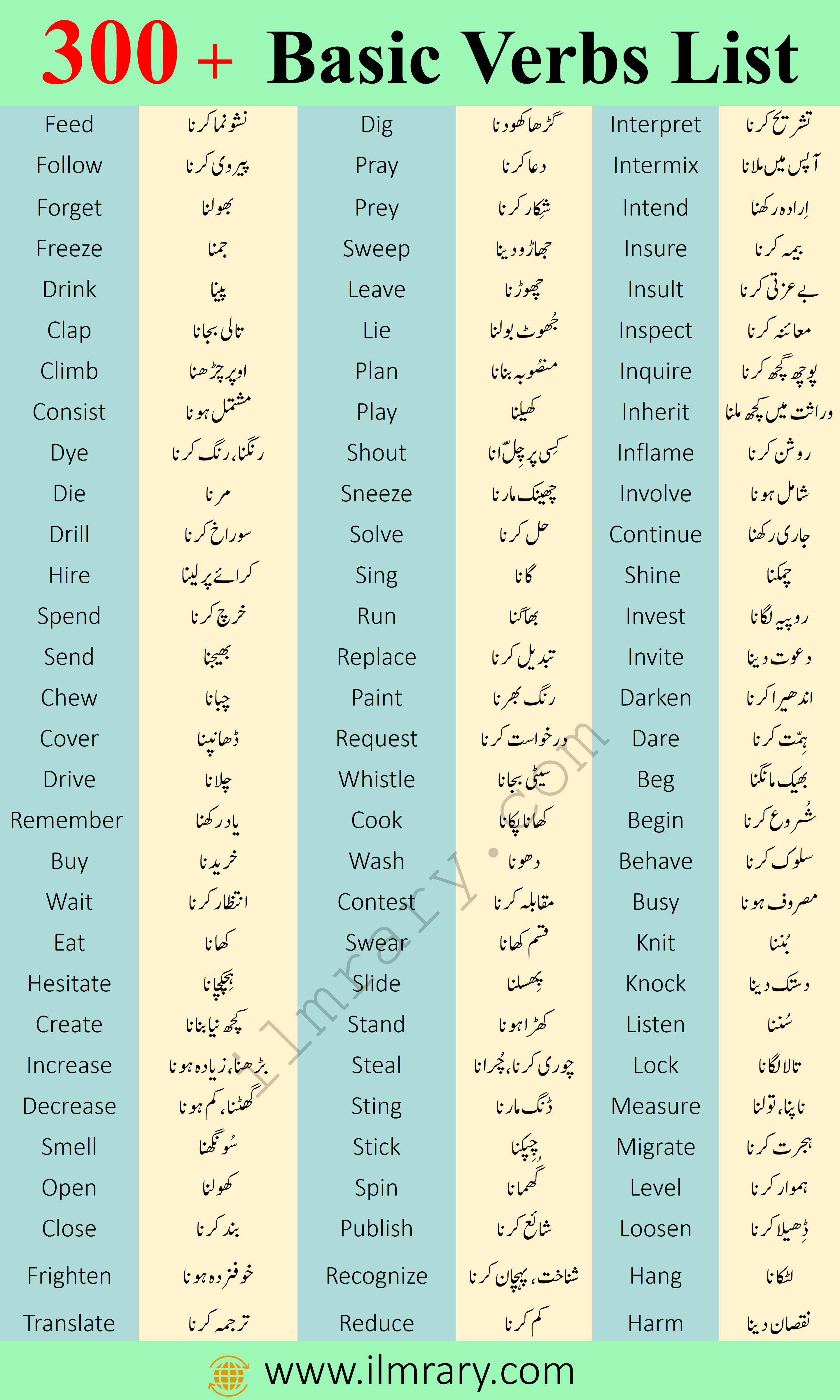 Download PDF Lesson of 300+common Verbs List
Click Here
You may also like the 200+Adjectives list